Taken By The Tide Feature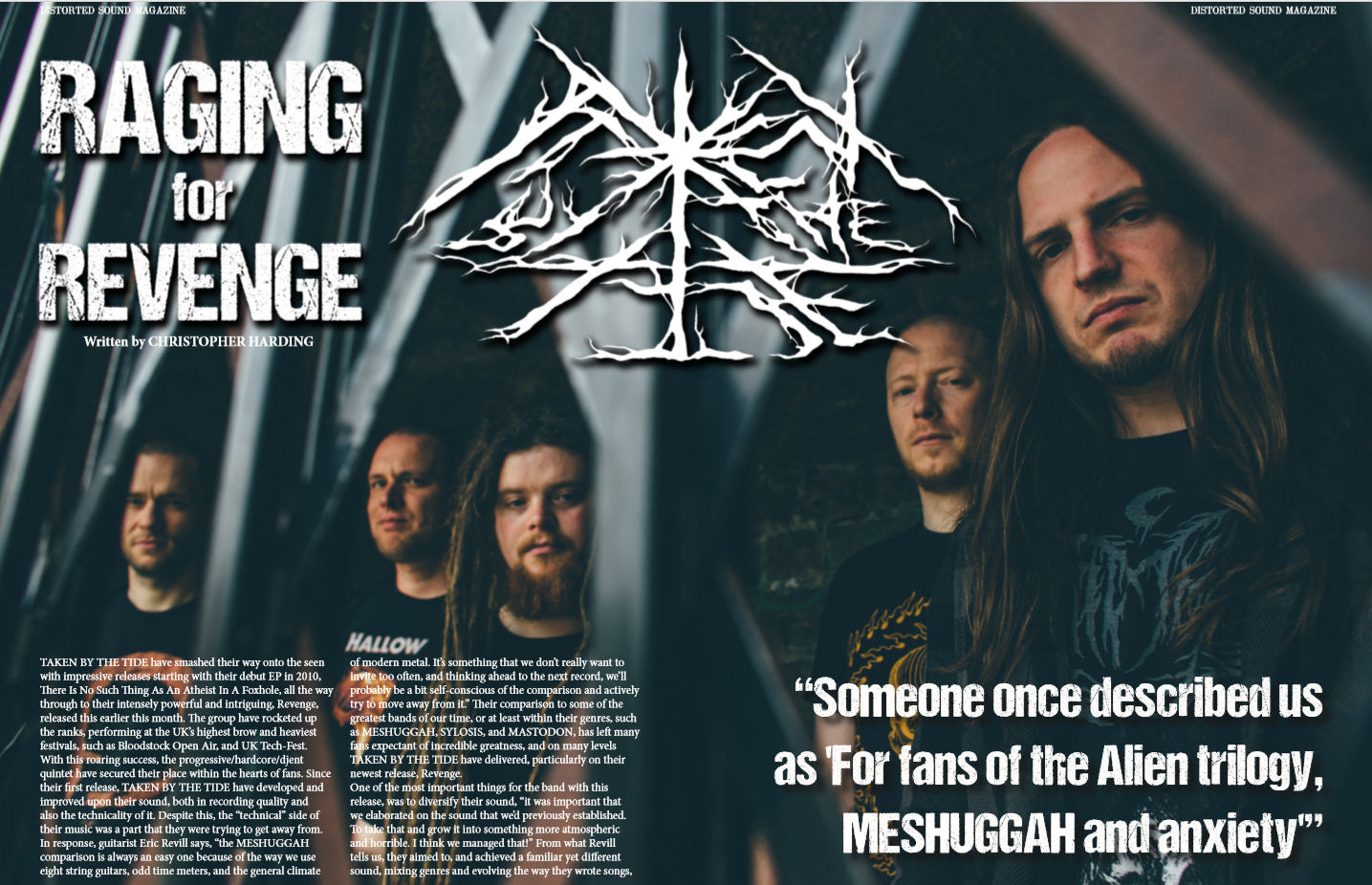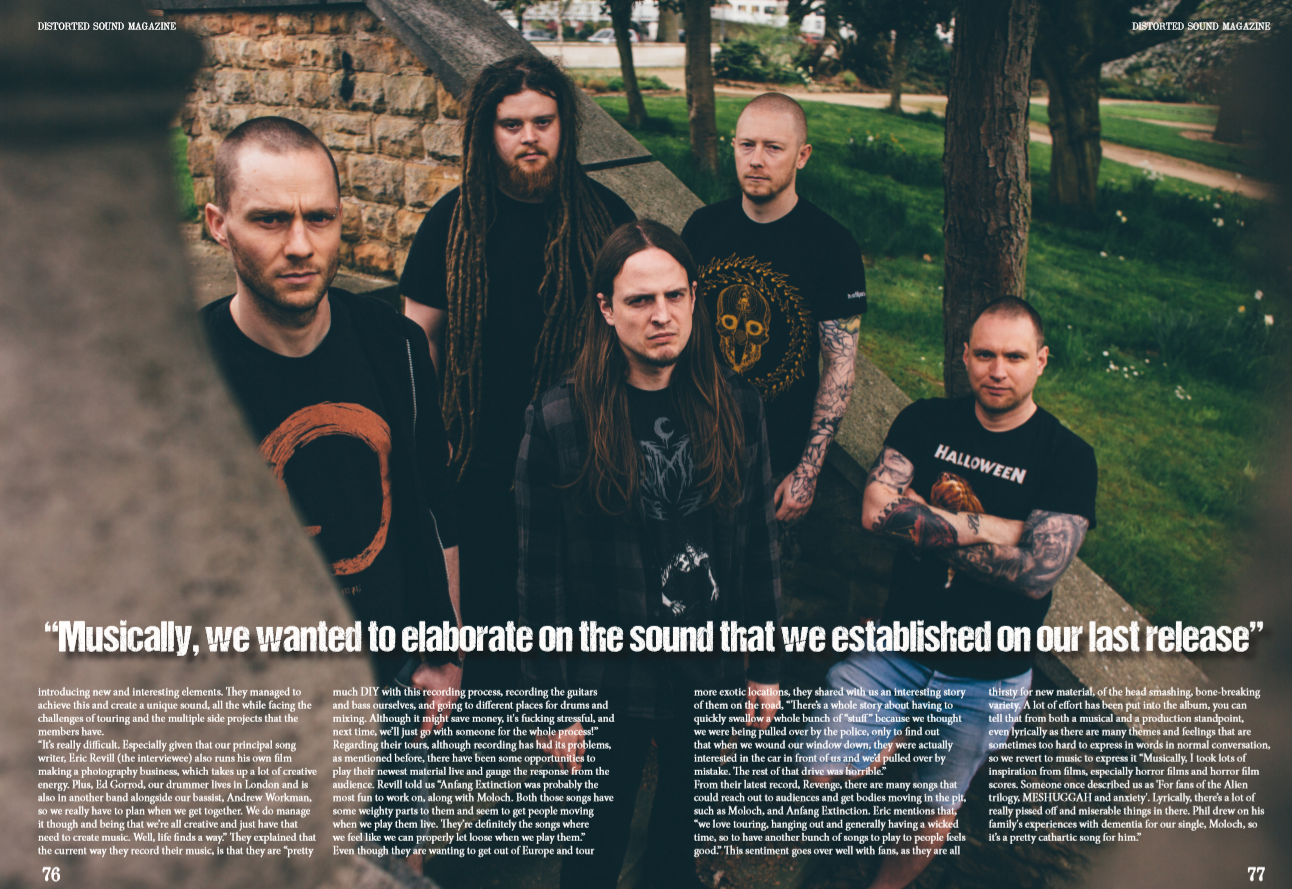 TAKEN BY THE TIDE have smashed their way onto the seen with impressive releases starting with their debut EP in 2010, There Is No Such Thing As An Atheist In A Foxhole, all the way through to their intensely powerful and intriguing, Revenge, to be released August 3 2018. The group have rocketed up the ranks, performing at the UK's highest brow and heaviest festivals, such as Bloodstock Open Air, and Techfest. With this roaring success, the progressive/hardcore/djent quintet have secured their place within the hearts of fans.

"Musically, we wanted to elaborate on the sound that we established on our last release, Hands of spite. We really feel like we found our voice with that record, so it felt important to cement that on this release."
Since their first release, TAKEN BY THE TIDE have developed and improved upon their sound, both in recording quality and also the technicality of it. Despite this, the "technical" side of their music was a part that they were trying to get away from. "The MESHUGGAH comparison is always an easy one because of the way we use 8 string guitars, odd time meters, and the general climate of modern metal. It's something that we don't really want to invite too often, and thinking ahead to the next record, we'll probably be a bit self-conscious of the comparison and actively try to move away from it." Their comparison to some of the greatest bands of our time, or at least within their genres, such as MESHUGGAH, SYLOSIS, and MASTODON, has left many fans expectant of incredible greatness, and on many levels TAKEN BY THE TIDE have delivered, particularly on their newest release, Revenge.
One of the most important things for the band with this release, was to diversify their sound, "it was important that we elaborated on the sound that we'd previously established…to take that and grow it into something more atmospheric and horrible. I think we managed that!" They aimed to, and achieved a familiar yet different sound, mixing genres and evolving the way they wrote songs, introducing new and interesting elements. They managed to achieve this and create a unique sound, all the while facing the challenges of touring and the multiple side projects that the members have, "It's really difficult. Especially given that our principal song writer, Eric Revill (Guitar) also runs his own film making a photography business, which takes up a lot of creative energy. Plus, Ed Gorrod, our drummer lives in London and is also in another band alongside our bassist, Andrew Workman, so we really have to plan when we get together. We do manage it though and being that we're all creative and just have that need to create music…well…life finds a way." They explained that the current way they record their music, is that they are "pretty much DIY with this recording process, recording the guitars and bass ourselves, and going to different places for drums and mixing." They learned from these experiences that" …although it might save money…its fucking stressful, and next time, we'll just go with someone for the whole process!" They go on further to say that despite the difficulty they have faced so far and that "I think we'll have to do it at some point or other!"
Regarding their tours, although recording has had its problems, as mentioned before, there have been some opportunities to play their newest material live and gauge the response from the audience, Anfang Extinction was probably the most fun to work on, along with Moloch. Both those songs have some weighty parts to them and seem to get people moving when we play them live. They're definitely the songs where we feel like we can properly let loose when we play them." Even though they are wanting to get out of Europe and tour more exotic locations, they shared with us an interesting story of them on the road, "There's a whole story about having to quickly swallow a whole bunch of "stuff" because we thought we were being pulled over by the police, only to find out that when we wound our window down, they were actually interested in the car in front of us and we'd pulled over by mistake. The rest of that drive was horrible.". They told us that regarding the material they have been using for their live performances that, "We've been playing these songs live for longer than we care to mention now! Lets just say that we've fallen in and out of love with them over and over again. That being said, there's a couple of songs that seem to really go over well with audiences, so getting to know the songs inside and out has actually been really fun."
From their first full-length album, Revenge, there are many songs that could reach out to audiences and get bodies moving in the pit, such as Moloch, and Anfang Extinction. The band mentioned that, "We love touring, hanging out and generally having a wicked time, so to have another bunch of songs to play to people feels good.". This sentiment goes over well with fans, as they are all thirsty for new material, of the head smashing, bone-breaking variety. A lot of effort has been put into the album, you can tell that from both a musical ad a production standpoint, even lyrically there are many themes and feelings that are sometimes too hard to express in words in normal conversation, so we revert to music to express it "Musically, Eric took lots of inspiration from films…especially horror films and horror film scores. Someone once described us as "For fans of the Alien trilogy, MESHUGGAH and anxiety". Lyrically, there's a lot of really pissed off and miserable things in there. Phil drew on his family's experiences with dementia for our single, Moloch, so it's a pretty cathartic song for him."
We hope to hear from TAKEN BY THE TIDE soon, with news of tour dates and venues, until then they left us with a simple message "Party On. Be excellent to each other."