Heidevolk Feature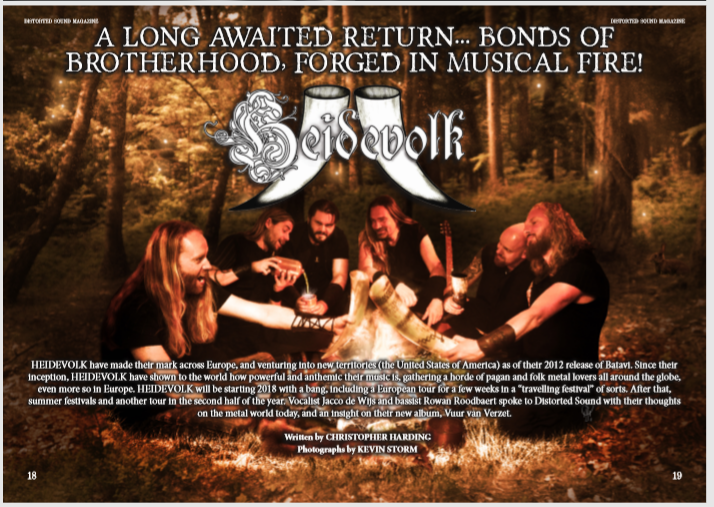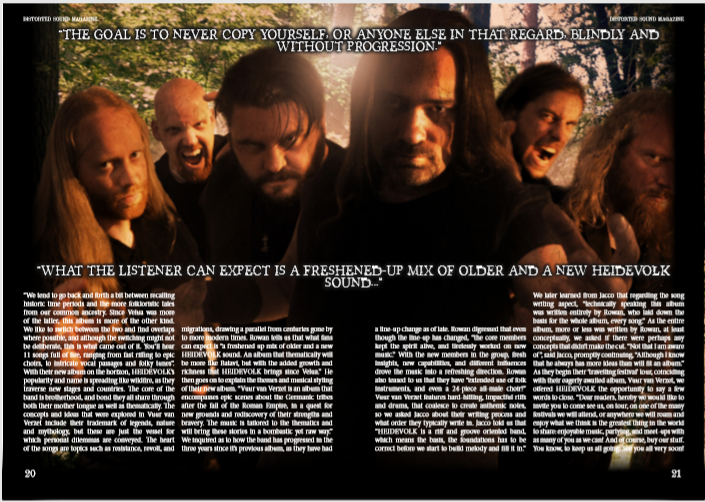 HEIDEVOLK have made their mark across Europe, and venturing into new territories (the United States of America) as of their 2012 release of Batavi. Since their inception, HEIDEVOLK have shown to the world how powerful and anthemic their music is, gathering a horde of pagan and folk metal lovers all around the globe, even more so in Europe. HEIDEVOLK will be starting 2018 with a bang, including a European tour for a few weeks in a "travelling festival" of sorts. After that, summer festivals and another tour in the second half of the year. Vocalist Jacco de Wijs and bassist Rowan Roodbaert spoke to Distorted Sound with their thoughts on the metal world today, and an insight on their new album, Vuur van Verzet.

"We tend to go back and forth a bit between recalling historic time periods and the more folkloristic tales from our common ancestry. Since Velua was more of the latter, this album is more of the other kind. We like to switch between the two and find overlaps where possible, and although the switching might not be deliberate, this is what came out of it. You'll hear 11 songs full of fire, ranging from fast riffing to epic choirs, to intricate vocal passages and folky tunes".
With their new album on the horizon, HEIDEVOLK's popularity and name is spreading like wildfire, as they traverse new stages and countries. The core of the band is brotherhood, and bond they all share through both their mother tongue as well as thematically. The concepts and ideas that were explored in Vuur van Verzet include their trademark of legends, nature and mythology, but these are just the vessel for which personal dilemmas are conveyed. The heart of the songs are topics such as resistance, revolt, and migrations, drawing a parallel from centuries gone by to more modern times. Rowan tells us that what fans can expect is "a freshened up mix of older and a new HEIDEVOLK sound. An album that thematically will be more like Batavi, but with the added growth and richness that HEIDEVOLK brings since Velua" He then goes on to explain the themes and musical styling of their new album." Vuur van Verzet is an album that encompasses epic scenes about the Germanic tribes after the fall of the Roman Empire, in a quest for new grounds and rediscovery of their strengths and bravery. The music is tailored to the thematics and will bring these stories in a bombastic yet raw way." We inquired as to how the band has progressed in the three years since it's previous album, as they have had a line-up change as of late. Rowan digressed that even though the line-up has changed, "the core members kept the spirit alive, and tirelessly worked on new music." With the new members in the group, fresh insights, new capabilities, and different influences drove the music into a refreshing direction. Rowan also teased to us that they have "extended use of folk instruments, and even a 24-piece all-male choir!"
Vuur van Verzet features hard-hitting, impactful riffs and drums, that coalesce to create anthemic notes, so we asked Jacco about their writing process and what order they typically write in. Jacco told us that "HEIDEVOLK is a riff and groove oriented band, which means the basis, the foundations has to be correct before we start to build melody and fill it in." We later learned from Jacco that regarding the song writing aspect, "technically speaking this album was written entirely by Rowan, who laid down the basis for the whole album, every song." As the entire album, more or less was written by Rowan, at least conceptually, we asked if there were perhaps any concepts that didn't make the cut. "Not that I am aware of", said Jacco, promptly continuing, "Although I know that he always has more ideas than will fit an album."
As they begin their "travelling festival" tour, coinciding with their eagerly awaited album, Vuur van Verzet, we offered HEIDEVOLK the opportunity to say a few words to close. "Dear readers, hereby we would like to invite you to come see us, on tour, on one of the many festivals we will attend, or anywhere we will roam and enjoy what we think is the greatest thing in the world to share: enjoyable music, partying, and meet-ups with as many of you as we can! And of course, buy our stuff. You know, to keep us going. See you all very soon!", shared Jacco.